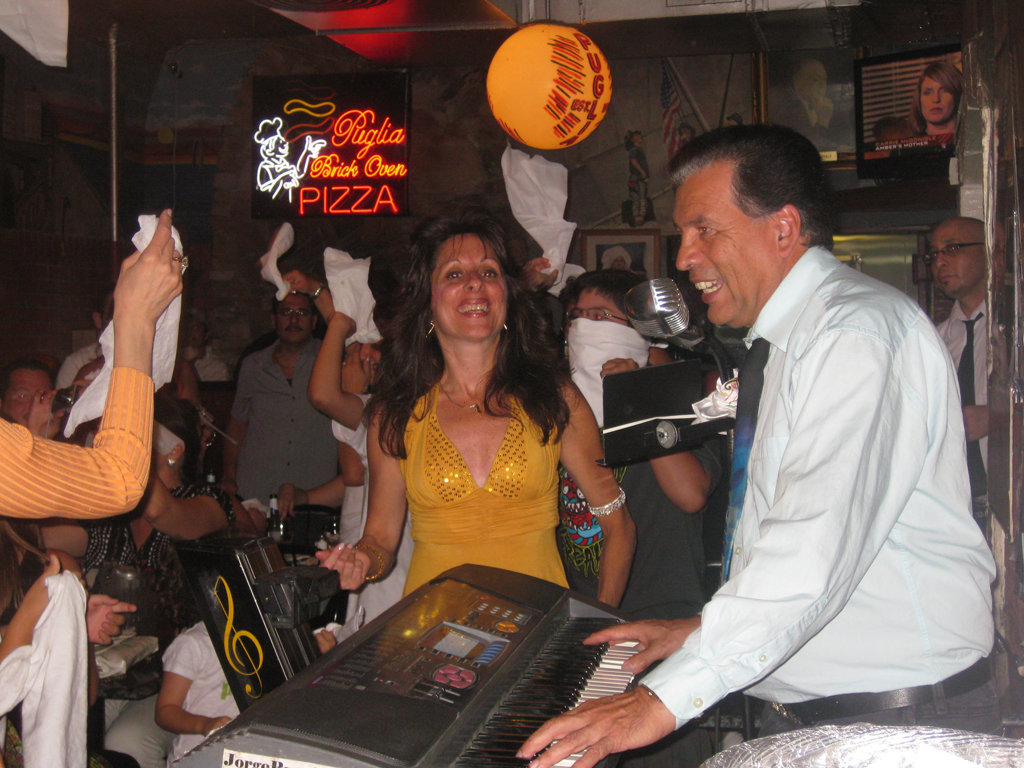 Jorge Buccio - A Talented Great Performer
His roots stem from an Italian and Spanish heritage: Alfredo and Esthela. Jorge's voice and charisma has captivated audiences from all over the world, including
celebrities like Leonardo DiCaprio, Liza Minelli, Sonny Grosso 1V and movie producer, the late Anthony Quinn, to name a few.
He appeared in "Big Daddy" starring Adam Sandler where he sang "0 Sole Mio", "It's Now Or Never" and "The Best Of Times".
Recently, Radio Mix FM 102.7 recognized Jorge as one of Little Italy's "Icon Singers". In addition, he was honored with a Proclamation Award from New York City's Councilman, Alan Jerson and received a plaque from the FBI for his dedication to performing for New York's finest.
The ONE MAN album features his most popular songs: The Napkin Song, The New Yorker Man, Acapulco, America, New York My City (In Memory Of 9/11) and several others.
Now ONE MAN 2, issued by popular request, has a sophisticated and elegant style.
Jorge wanted to create a new instrumental sound with a warm presence. This album also
features some Italian-American favorites such as Volare, 0 Sole Mio, II Mondo,Core Ingrato, Can't Help Falling In Love, Cuando Cuando, The Best Of Times, plus two of Jorge's originals: Shalala and The Party Of My Life. Lastly, his version of "My Way" was recorded live aboard the Pride Cruise Ship during an annual performance for the "The Wow Investors Group".
With his keyboards, piano, accordion and x66 Hammond Organ, Jorge creates a unique concept laden with and an emotional quality sound, that is expressed rhythmically in all his music.
Colonel J McLean serving in Iraq, wrote to Jorge to say that his music is being played
by soldiers in Kuwait, Korea, Germany and Afghanistan to relive memorable performances and good times shared with Jorge at Puglia's Restaurant.
The more I listened to this CD, the more I liked it, so I hope you'll like it
too!" Special thanks to God, fans, friends, family, EcuaTimes, The WOW Group, Tequila
Restaurant and Puglia Restaurant for all your support. Ed Littman, Polvanrhee Sound tech
"Music brings happiness to my heart, and peace to my soul
-Jorge
Debra Ente

"DEBBIE BROADWAY"
A professional singer/entertainer who was the lead singer of a wedding band for several years and performed in the tri-state area of New York City. Debra was on the Joe Franklin Radio Show and also performed at the Duplex in the Village. Debra Ente now entertains with Jorge Buccio at Puglia Restaurant in Little Italy, New York City. Debra has stage presence and charisma which keeps the crowds excited.
In January 2010, Debra and Jorge appeared on the Fox 5 Webtv show. They also performed at the New York University Law School Holiday Party. During the San Gennaro Feast Debra and Jorge gave three live performances. They were also broadcast live on CBS 101.1 FM radio with Joe Causi at the feast. Debra Ente recently recorded songs for the album "This is the Music" with Jorge Buccio, which is available at Puglia Restaurant. Debra is currently working on new original songs for her upcoming CD.
Debra's repertoire consists of music from the 1940's all the way up to the present music of today; including the sounds of the classic 70's disco era, Motown music, Italian, Latin and much more.
Debra is also featured as the "Singing Diva" on www.hollypinafore.com. a hip, fun online magazine for women.
It's 98 years of business, family and a lot in between that make this restaurant more than just a place to eat. If our walls could talk and write a book no doubt it would be a top seller! We have created and continue to create memories for so many as you can see on TLC's The Long Island Medium that aired Sunday, March 8th 2015.
It was a great beginning of a new season for Theresa and Larry to celebrate and for them to return to Puglia where they had their first date 30 years ago!
There's something special about Puglia that we think everyone should experience!
We were so thrilled to have Theresa and Larry Caputo enjoy some time at Puglia and hope they will return soon! Happy Anniversary!